Jacques Lisée IAF, AIBAQ

sculptor and painter
---
Born in Fontainebleau, near Weedon (Quebec, Canada), Jacques Lisée lives in Thetford Mines since 1955. It was in this small town that he first became interested in wood carving. A self-taught painter and sculptor, he has earned his living with his art for the past 44 years. He has pursued his artistic endeavor with a talent and originality that both surprises and seduces. The elderly with endearing physiognomy, earthy characters, caricatural scenes, images cleverly distorted. He has an eye for detail while managing to maintain a thematic unity that gives a unique style to each of one of his pieces. The artist has deftly presented, in a new light, life in the countryside, farm animals, domestic work and scenes of everyday life which, through his humor and inspiration have been transformed into a vast, constantly renewed fresco of daily life. The artist is constantly seeking new mediums to express his talent ...
---
ARTWORK
Village Sleigh II
Acrylic on wood sculpture
12 in x 15 in.
(310 X 380 mm)
Inventory No : 2016212
850$
---
The Choir
Acrylic on carved wood
12 in. x 24 in.
(310 X 610 mm)
Inventory No : 2016213
1250$
---
[colgauche]
Making Hay
Acrylic on wood sculpture
10 in. x 25 inches
(250 X 630 mm)
---
Plowing
12 in. x 20 in.
(310 X 510 mm)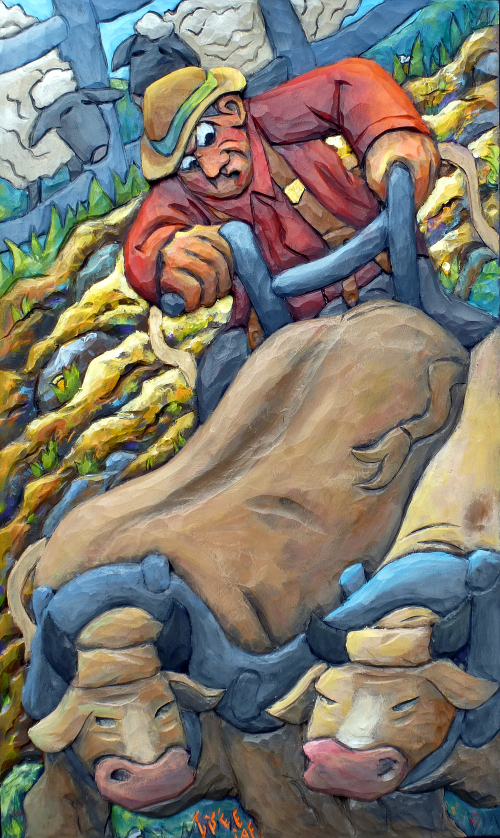 ---
A Charming Church
Acrylic on wood sculpture
12 in. x 21 in.
(310 X 530 mm)
Inventory No : 2016207
1100$
---
Golden chickens
Acrylic on wood sculpture
14 in. x 18 in.
(350 X 450 mm)
Inventory No : 2016209
1100$
---