Our gallery is a place to discover beautiful art work, exchange ideas and realize your dreams
Ask fifty people their definition of art you will obtain 50 different answers.
They are all right.
For information about an art picture, contact us : This email address is being protected from spambots. You need JavaScript enabled to view it.
---
Michel Gagné

The idea for Galerie Gagne first saw the light in the spring of 2016, fueled by a profound desire to share a fascination, a respect and a love for the arts. Nourished by a thirst to discover inspiring artwork from talented artists and in turn, enable others to discover them as well, the founder of Galerie Gagne, Michel Gagne began a stimulating and sometimes terrifying but always enriching adventure. Bachelor of arts in Sociology, he decided to continue his studies to obtain a certificate in art management in order to better serve the art lovers who will visit his online gallery.



Constantly searching for

the latest trends in the art world and in the interest of promoting the great masters of the past, Michel travels the museums and galleries of Quebec, Canada and beyond the borders to deepen his knowledge and open his horizons to new artists. As a member of the National Gallery of Canada and also on the board of directors of the Sherbrooke Museum of Fine Arts he strongly believes in supporting local and national art institutions.



Assisted by his wife and family, his desire is to instill the passion that inspires him to everyone he meets through his virtual gallery. He insists that his web site be easy to navigate, informative and completely transparent. His ideology can be summed up in a few words; Galerie Gagne is more than a place to sell works of art, this is a place to exchange ideas and discover masterpieces.
Maryse Landry

Her love for art and her intuitive flair of discovering masterpieces from unknown artists, make Maryse Landry an indispensable asset to Galerie Gagne. She has a naturally avant-guard eye that enables her to unearth the future masters of art.

Furthermore, her experience in the field of decoration and interior design add a touch of creativity to our Integration and Enhancement Service of your piece. She will advise you on the location, lighting and layout of your purchase putting it in the most favorable light possible through decorative objects, staging, color which will divert attention to your artwork giving it a place of choice in your home.
---
The services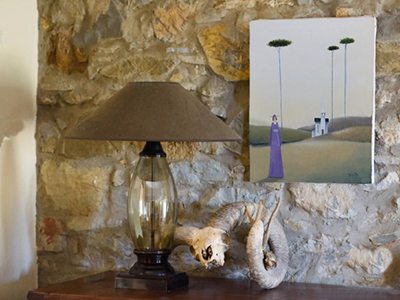 Integration and enhancement Service
The acquisition of art work is not always a simple process and buying a piece is just the beginning. Finding a suitable place to hang you new masterpiece within your actual décor can prove to be complicated. Furthermore, this new art work should be the center of attention and all eyes should be drawn to it.
This is why we offer to our customers this service. Our experts can advise you on the ideal location for your new artwork, the proper lightning as well as those special decorative touches that will enhance your masterpiece and make it the a showpiece.
---
Assessment and authentication of Art works
I goes without saying that all the artwork sold by Galerie Gagne is certified authentic and that the retail price is a fairly accurate indicator as to it's value, but what about the artwork you already possess? Perhaps you own paintings or sculptures that have been in you family for generations. If this is the case and you wish to have these pieces authenticated and or evaluated for insurance purposes, we can help you. Our authentication and evaluation service is carried out by discreet professionals with many years of experience in this field. Contact us!
---
Artwork Selection Guidance
If you wish to acquire artwork for your place of business, whether to decorate the reception area, the conference room, your office, or even for your residence, we can help you make a wise choice. We will work with you to choose the work that will suit your style. Whether modern, avant-garde traditional or new genre, your selection will reflect your corporate and personal soul. In addition, to highlight the departure of a devoted employee who demonstrated through the years uncompromising loyalty. What better than a work of art that will communicate how much they were appreciated.
---
The sales conditions


When you make a purchase from Galerie Gagné, you have the assurance of purchasing a work of art of quality at a reasonable price.
- If the piece you are considering is framed, the sales price includes the price of the frame.
- All works of art are delivered with a certificate of authenticity for your peace of mind.
- Shipping fees, applicable taxes and customs charges are not included in the sale price and
are the responsibility of the buyer.
- All prices are in canadian dollars
We offer a courteous, professional and honest service to make your online experience with
us an enjoyable one.